A corporate income tax attorney can save a company a lot of money in the day to day business and planning for future growth of the company with:
Tax preparation advice
Enjoy the advantage of avoiding pitfalls in taxes by using the advice of your attorney to prepare your taxes this year in compliance with the IRS and to make tax-savings plans ahead for next year to reduce your tax load.
Advice on business contracts and planning
Talk with your corporate income tax attorney about the tax implications of contracts before you sign them. Sometimes small changes can save a lot of headaches with future tax burdens
Litigation for taxes past due
Sometimes there are circumstances that happen in life that keep us from paying our taxes on time. In order to avoid additional penalties and fees, a corporate income tax attorney can represent the company and negotiate a way to bring it into compliance with the taxing organization.
Delinquent tax returns
In your busy schedule, did you forget to file for an extension on filing taxes or miss a tax form altogether? Overdue tax returns need to be filed. Ask your attorney if there is a way to avoid penalties and late fees.
Tax audit representation
Don't stress out because you received a notice of a tax audit. Send your corporate tax attorney to represent you. You don't even have to go.
Tax appeals and protests
If a taxing organization has made an unfair ruling against you, your attorney can appeal the decision. The government doesn't always have all the information to make the right decision. You can appeal.
Buying and selling real estate
Avoid the income tax pitfalls of buying and selling property with some careful planning and knowledge of the rules.
Tax shelters
Look for ways to shelter your money, claim tax credits and deductions, and minimize tax impact on your bottom line
Corporate structure and restructuring
Different corporate structures are taxed at different rates. Do you have the best structure setup for your business? A restructuring may be in order. Perhaps you are a new company looking for advice on the best way to structure your company. A corporate income tax lawyer can help.
Where Do I Find a Good Corporate Income Tax Attorney?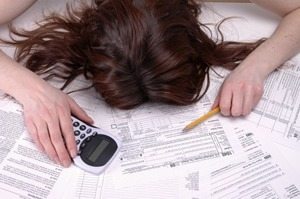 In Ohio, call Terri Brunsdon of Brunsdon Law Firm. She is a practicing corporate income tax attorney with impressive credentials, years of experience, and real concern for her client's well-being. Terri is both a lawyer in Ohio and a CPA in Ohio and West Virginia. She has her Master's degree in Tax. Before entering the legal profession she was a Public Accountant and a Chief Financial Officer. This gives her real world knowledge of the dealings of a business and the heart of a business person. Terri is also a published author, having written several books on accounting.
Contact Us
For all your corporate income tax attorney needs, contact Brunsdon Law Firm. You will deal directly with Terri Brunsdon. Feel free to complete the contact form, but keep the details of your situation minimal for privacy reasons.